Three Chandler Prep Seniors Receive Military Service Academy Appointments
Chandler Preparatory Academy May 16, 2018
Three Chandler Prep Academy Seniors Receive Military Service Academy Appointments
Headmaster, John Paul Poppleton and the Office of College Counseling are proud to announce the official appointments of three members of the graduating class of 2018 to The United States Naval Academy in Annapolis, Maryland and The United States Military Academy, West Point, in New York.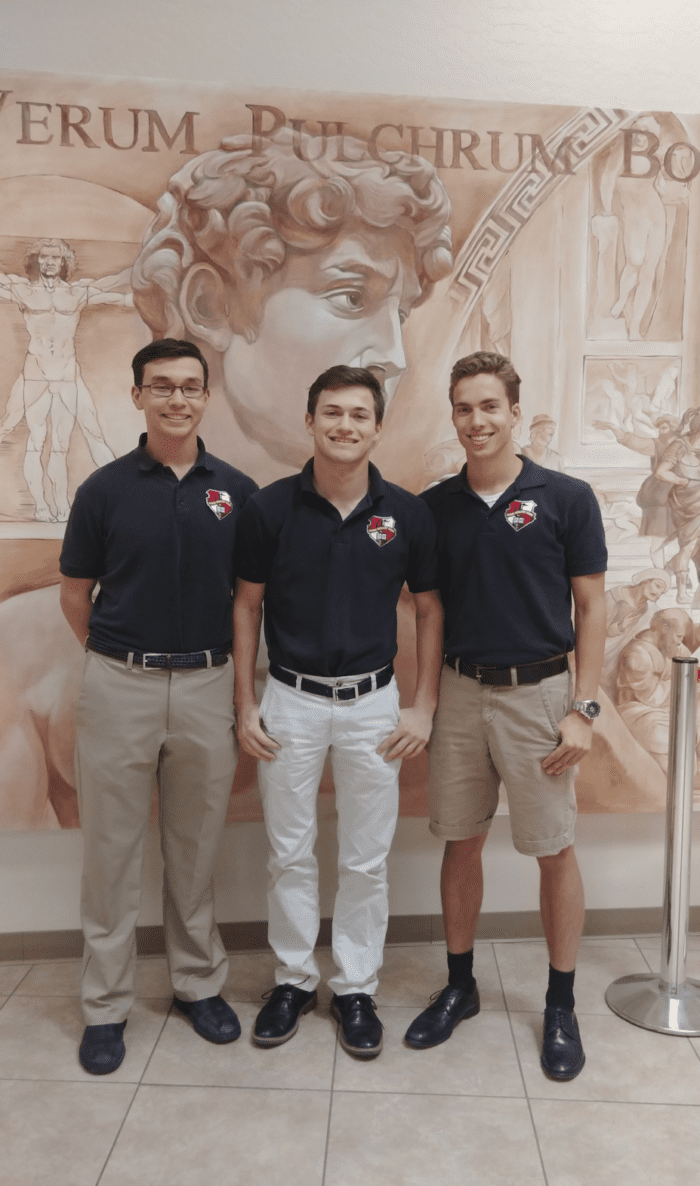 Luke Brodnik has studied Latin for five years and translated ancient Roman poems, books and speeches. He has also taken ancient Greek and enjoys translating Homer. Luke wrote: "I believe learning about these ancient civilizations and their respective languages is important because so much of our government and history stems from these cultures. Many of our Founding Fathers knew Latin, like Thomas Jefferson, John Adams and James Madison."
Luke's summer experiences have included; Boys' State, Arizona, U.S. Naval Academy Summer STEM program, U.S.N.A. Summer Seminar, West Point Summer Leaders' Experience, and ASU, Barrett Summer Scholars' Program. As a three sport varsity athlete, Luke has lettered in Soccer (Captain), Cross Country (Captain) and Track and Field. An integral member of our school community, Luke is a member of the Men's and Select Choirs, a Mentor and Math Tutor and a member of "Life Teen" with his church. Luke has also explored more than thirty National Parks and Monuments and has hiked to the bottom of the Grand Canyon eight times. Luke has received and accepted his appointment to the United States Naval Academy, and will major in Engineering.
Alex Krupinsky
During his junior year, Alex's Physics teacher wrote: "During the year I watched Alex work extensively in the classroom, laboratory and mechanical and electrical shop.  I saw him work alone, with peers and with younger students.  In all instances, Alex was the consummate professional. I have encountered only a handful of students of the caliber of Mr. Krupinsky during my career. He is one of the very best-I do not assert this claim often."
Alex is an Eagle Scout rank and continues to be involved in scouting. As an integral member of our Mentor Program, Alex refers to his mentorship of new sixth grade students as teaching them "Survival Tactics for Life". Chosen by the local city government board, he is a member of the Tempe Youth Leadership Foundation. During the past two summers, Alex attended the U.S. Naval Academy Summer STEM I and STEM II programs. As a four Year Varsity Ice Hockey defenseman, Alex has had the opportunity to compete all over the country as well as tournaments in St. Petersburg, Russia. Designing projects on his 3-D printer, where he learned how to design and simulate objects in water with a program called "Blender" was one of his favorite and most interesting hobbies. Alex has accepted his appointment to the United States Naval Academy and will major in Engineering.
David Martin
On Honor, David wrote: "In Homer's Iliad, Achilles achieved immortal honor through killing Hector and avenging his friend Patroclus.  Achilles fulfilled this task with integrity, duty, loyalty and personal courage, but he lacked in one key ingredient: selfless service.  To be honorable in the modern sense one must serve in a selfless manner. This is why I have chosen a path of Military Service, a profession that is based on selfless service."
Nominated and selected to attend St. John's Summer Seminar in Annapolis, Maryland, and because of Chandler Prep's Classical Great Books Curriculum, David felt at ease as he studied nature, law and science through the discussion of the Great Books Program. He was also selected as one of two students during the summer before junior year as a HOBY (Hugh O'Brien Youth Leadership) Scholar. David's work as a Mentor to new six graders, a selected member of Dean's Council, a Student Ambassador and as a volunteer with our student-run Key Club program, and an integral member of the Men's and Select Choirs has been exceptional. A true scholar-athlete, David has lettered in Varsity Baseball, Track and Field and spent most of his time during the year on the ice as Captain of his club Hockey team where the tournament travel has been extensive.  David received and accepted an appointment to the United States Military Academy, West Point, where he will major in Engineering.
Luke, Alex and David will each graduate from Chandler Prep with Honors at the end of May and their official appointments will be presented at the year-end awards ceremony by two United States Service Academy representatives; our Arizona Blue and Gold Officer, a graduate of the Naval Academy and career Naval Aviator, Ed Neal, and the State Director of Admissions, West Point, a member of the Field Force and Chairman of the Academy Selection Panel for Congresswoman, Kyrsten Sinema, Rick Ireland.
These fine young men are of the highest character and integrity. As true Scholar-Athletes, each has consistently exhibited a "heart of service" within their school and communities. Luke Brodnik, Alex Krupinsky and David Martin are highly respected by faculty and peers.  All three graduates will be outstanding engineers and leaders at their respective military service academies and will serve our country with honor and distinction.