Great Hearts Summer Academy ~ Archway Veritas
Your scholar won't want to miss this year's Summer Academy! We've been working all year designing fresh, exciting summer camps for our young scholars. Our four weeks of summer camps will feature fun and enriching activities for kids K-6, with each week focused around a unique "theme." Students will experience hands-on, engaging activities in fine arts, reading, writing, crafts, science, math, and history – all designed to inspire creativity and keep skills sharp over the summer. Sports camps, Kindergarten camps, and "Prep for Prep" camps are also available. Weekly camps begin June 5th!
See below for full schedule and camp descriptions: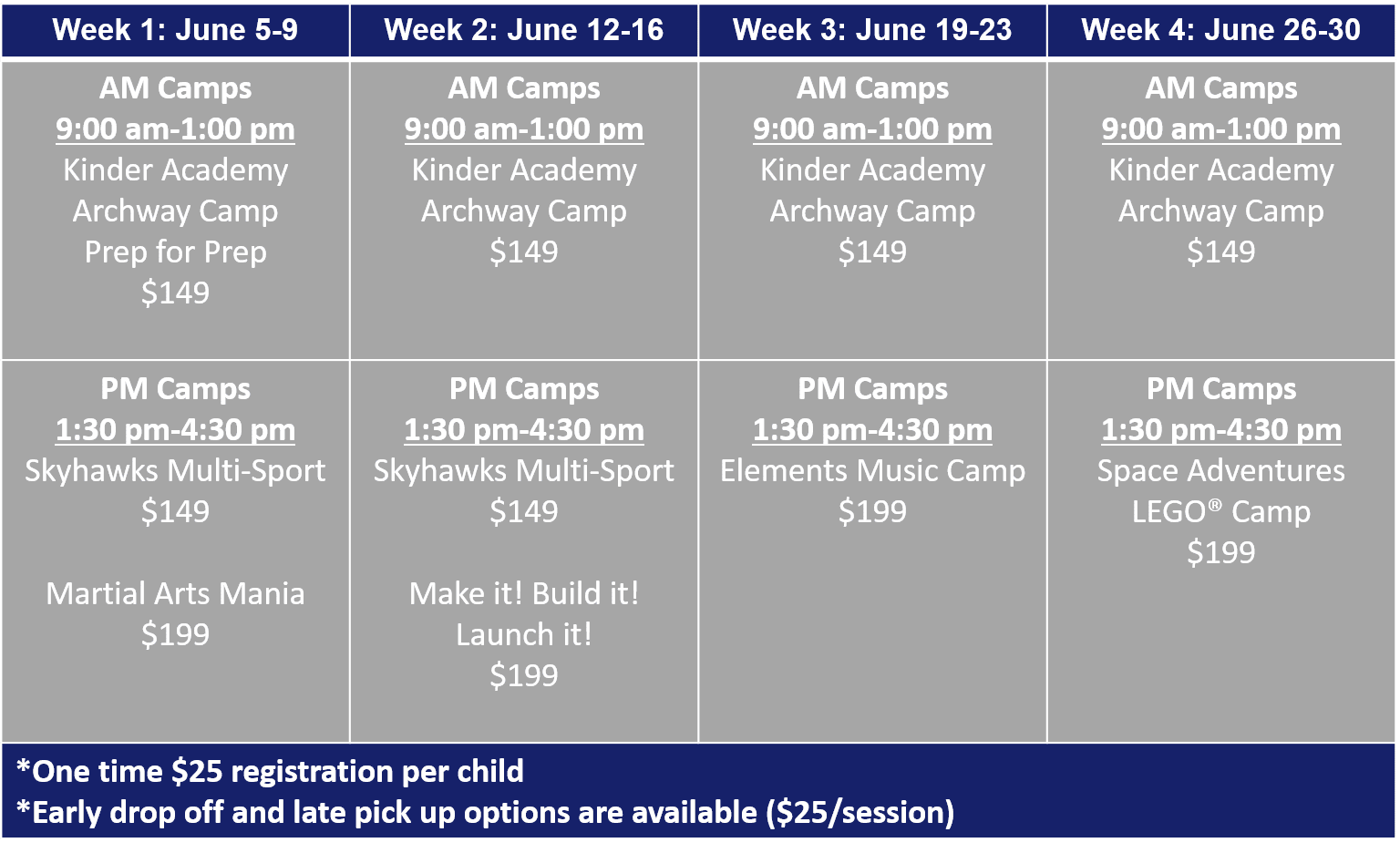 Kinder Academy
Grades: For Incoming Kinder (and Wait-Listed Kinder) Students Only
Limit: 25 Scholars  
Kinder Academy is designed to acclimate incoming Kindergarteners to the Archway Schools and the Great Hearts curriculum. Each week, students will experience a new theme to guide them through the skills needed in Kindergarten. Kinder Academy will introduce letter names, letter sounds, letter formation, print awareness, and number sense. Additionally, all students will experience the importance of the Archway virtues.
Week One – Around the world in 5 Days: Get your passport ready! This exciting camp will take students around the world in a week! We will discover The Land of the Rising Sun, The Land Down Under, and the rich history of Europe. The camp will include classic stories, crafts, and activities from around the world.
Week Two – Junior Astronomers: At the start of the week the students will "lift off" to space and spend the week exploring the planets and stars of the solar system! Our campers will also learn about the constellation and the NASA space program, and will have fun with rockets.  Let the voyage begin!
Week Three – Science Detectives (Hands-On Experiments): Every child will become a scientist for the week and learn through hands-on science experiments.  Critical thinking skills, scientific detective work, and lots of engaging discoveries are the features of this fun camp!
Week Four – Animal Habitats: Every day the students will learn about a new habitat, including oceans, deserts, urban areas, farms, rainforests, and the polar region.  Campers will also create their own animal habitat, complete with some  role playing to "test" their habitats.  Problem solving, creativity, and Socratic discussion will be featured in this camp – along with some lively excitement!
Archway Summer Camp
Our unique Archway Summer Camps are designed to cultivate the Great Hearts' mission for our amazing scholars.  Each week will feature a distinctive theme for 1st-5th grades with exciting activities based on the wide range of interests children have – science, math, art, literature, athletic skills, etc. Our goal is to make sure each child enjoys their time at camp while still stimulating their minds and deepening their sense of wonder.
Week 1 – Farm to Table: Our journey from "Farm to Table" gives campers a chance to learn what it means to grow, harvest, raise, and preserve food. We will be looking at the lost skills of farming through art history and passed-down family recipes. Experiments with photosynthesis, anatomy, and decomposition will help campers see nature at work. By the end of the week we will have a real farmer's market where each student will sell goods they have made. Additionally, we will host a local farmer with produce for families to browse and shop, while discussing the importance of healthy choices for mind, body, and soul!
Week 2 – Inventions and Discoveries: Albert Einstein said, "Play is the highest form of research." We will learn to "play" with the past as we learn about foundational discoveries affecting our lives today – From paper and plastic, catapults and castles, the light bulb and robotics, we will explore how discoveries and inventions are like a snowball effect, as one idea is a platform for another. Scholars will learn how it can take centuries of ideas before inventions come to fruition. On Friday, we will host a science fair, displaying the different inventions campers "played" with and came up with on their own!
Week 3 – Art-venture!: Join us on an 'art-venture!' Weave with the Japanese and paint with the Italians. Build alongside the world's noted architects and bridge designers. Learn new and playful twists to pottery design, and explore the wonders of art in mathematics with the Fibonacci sequence. Parents and other guests will get to enjoy an exhibition as students lead an invigorating art walk at the end of the week!
Week 4 – Heroes and Villains: Imagine you are Odysseus battling the Cyclops or coming face to face with a Middle Earth monster. Can you see yourself solving a mystery with the great Sherlock Holmes or flying through Neverland? Great stories are a part of every culture and era and we can become personally inspired or repelled by the characters we read about. In 'Heroes and Villains,' we will be paying tribute to some of the most iconic characters of the Great Books. The camp will conclude with your child dressing up and acting as their favorite character; bringing it to life for parents and fellow campers!
Prep for Prep
Grades: For Rising 6th Graders
Limit: 25 Scholars
Developed by Great Hearts Archway and Prep school teachers.
Changing classrooms, multiple teachers, increased homework, new study skills, locker combinations, attending school with the "big kids" — are these some of the aspects of the big transition from Archway to Prep that are worrying your 5th grader? If so, sign your child up for "Prep for Prep," our new course specifically designed to equip the 5th grade scholar for success in moving on to the Prep level. From annotating the Great Books to proper note-taking techniques in the classroom, from becoming comfortable with the prep school layout to learning how to navigate lockers during passing periods, our teachers will help your child organize their school day and maintain the demands of a multiple-teacher/multiple-class environment. Don't fret! A smooth changeover awaits them!
Skyhawks Multi-Sport Camp
Grades: For Rising 1st- 6th Graders
Limit: 25 Scholars
This multi-sport camp is designed to introduce athletes ages 5 to 11 to a variety of different sports in one setting. For this program, participants will learn the fundamentals of soccer, flag football, basketball and other sports in one fun-filled week utilizing both indoor and outdoor facilities. This is a camp setting where athletes will learn the rules and essential skills of sports along equal parts fun and games. Each is different week to week with a focus on life lessons such as sportsmanship and teamwork.
Each participant will receive a camp t-shirt and merit award.
Martial Arts Mania!
Grades: For Rising 1st – 6th Graders
Limit: 30 Scholars
Come join Taekwondo Master and World Champion Ly Ngo for an unforgettable week.  Every day, your child will experience many fun games and activities, learn basic self-defense techniques, and get a healthy dose of physical fitness.  They will build on discipline, self-confidence, focus and attention, and more! Taught by Taekwondo Master Ly, who is the 2014 World Champion and the 2016 National Champion. Your child will be challenged both physically and mentally in fun and unique ways.  No martial arts experience necessary!  Join now before this popular class fills up!!
Make it! Build it! Launch it!
Grades: For Rising 1st – 5th Graders
Limit: 30 Scholars
Explore Science, Technology, Engineering and Math (STEM) through hands-on, fun-filled, real life activities. Students will use problem solving, creative thinking and actions to create and craft solutions, discover through investigations, and engage in science as an art as well as a tool. Building challenges will include creating structures, vehicles, and devices that solve various design criteria and simulate real-world problem solutions. This project-based camp will tickle your brain and tease the science out of you.
Elements Music
Grades: For Rising 1st – 5th Graders
Limit: 20 Scholars
"Elements" is a fun and innovative piano program that teaches kids how to play the piano or keyboard. The Elements approach is easy, fun, exciting, and rewarding! Not only do our classes enable beginners the capacity to play their favorite songs on their VERY FIRST lesson, but our students look forward to each class, time and time again.  Students will be introduced to music measures, note values, rests, counting notes, music melodies, steady beats, and much more!
Bricks 4 Kidz: Space Adventures LEGO® Camp
Grades: For rising 1st – 5th graders
Limit: 35 scholars
Inspired by NASA, our Space Adventures Camp is packed full of motorized models that will make your imagination blast off! Each day, campers will learn about real-life space exploration and build motorized models related to the NASA space program. In addition, the day includes LEGO® group games, challenges and more.  Bricks 4 Kidz® Space Adventure camp provides the spark for imagination and creativity to take off on an adventure that's out of this world!