Great Hearts Anthem Prep Athletes Chosen as Arizona High School All-Stars
Anthem Prep March 30, 2017
Trey Wood and MJ Roe picked among top 20 boys and top 20 girls in the state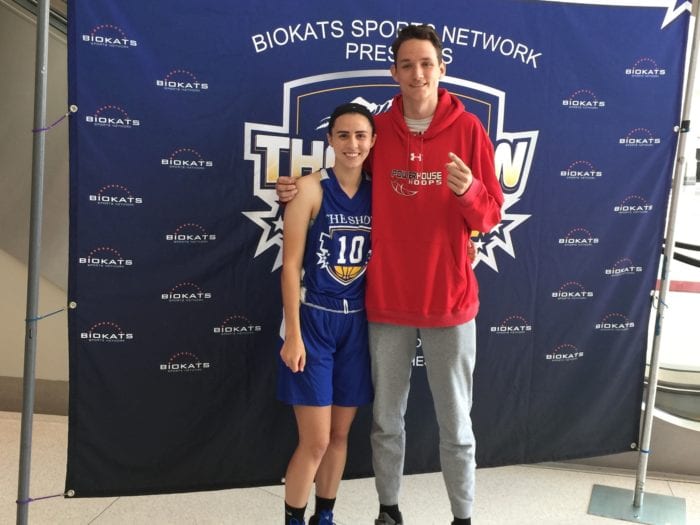 PHOENIX, Ariz.—March 30, 2017— Two Anthem Prep Athletes have been recognized for their basketball skills. Junior Trey Wood, and Sophomore MJ Roe, were chosen to participate in The Show, an Arizona High School Basketball All-Star game double-header being played today at Talking Stick Arena. The selection committee picked the top 20 boys and top 20 girls in the state to participate in the games.
Trey Wood was a dominant force this year for the Anthem Prep Eagles, leading the team in blocks, rebounds, and points. And MJ led the team to the final eight and averaged over 21 points per game.
Anthem Prep Athletic Director, Rick Watmore shared his enthusiasm for this recognition. "We are incredibly proud of the exemplary character of our Anthem Prep athletes, whose athletic abilities are enhanced by their sense of integrity and sportsmanship." He continued, "Trey and MJ are shining examples of talented athletes that also demonstrate the character and ethics so integral to a Great Hearts education."
Boys and girls Arizona all-stars who will be part of the The Show were introduced this past Wednesday at Talking Stick Resort Arena. The NBA's Suns and the WNBA's Mercury are partnering with Biokats Sports Network to present The Show: Arizona Boys and Girls High School Basketball All-Star Games.
About Great Hearts:
Great Hearts is a non-profit network of public charter schools dedicated to improving education nationwide through classical preparatory K-12 academies. As the largest provider of classical education in the country, Great Hearts academies serve more than 14,000 students at 29 public schools in greater Phoenix, Ariz. and San Antonio and Irving, Tex., with waitlists that typically exceed enrollment. Great Hearts provides a robust liberal arts curriculum incorporating advanced math and science, a focus on the arts and foreign language, and a range of extra-curricular activities and athletics. Learn more at www.greatheartsamerica.org.
Key Statistics:
The Great Hearts SAT average over the past five years is 1210, a 200 point advantage over the national average.
98% of Great Hearts graduates immediately attend universities and colleges, with 2% participating in military service or a gap year; 54% of graduates pursue a STEM-focused course of study in college.
The 340 graduates in the Great Hearts Class of 2016 were admitted to 327 colleges and universities in 46 states and seven countries.  In fact, graduates were accepted to 22 of the top 25 national universities according to US News and World Report.
The class of 2016 received an estimated $50 million in scholarships, averaging out to an astounding $147,000 per student!
Great Hearts academies performed well above state-wide averages on inaugural AzMERIT scores. Great Hearts' pass rates were more than double those of peer district schools at the middle and secondary level, and +60% higher than peer institutions in elementary grades.
Contact:
Bill Odell
Director of Communications, GreatHearts
bodell@greatheartsaz.org
(602) 889-5034